When recording his new sophomore album, The Mockingbird & The Crow, Nashville-based singer-songwriter Hardy created a song that, in many ways, summarizes his entire musical ethos. "Radio Song" (which features a guest vocal from metalcore/pop-punk band A Day to Remember's Jeremy McKinnon) is, at the outset, a straight-ahead stereotypical country song — girls, trucks, a harmonic hook — but then unexpectedly erupts into a full-on hard-rock riot replete with thick, sludgy riffs beneath McKinnon's thrashing roar. For Hardy, a rock-loving country star, shocking his audience in this way is exactly the point.
"I would love for people to be as taken aback as possible," the shape-shifting musician tells SPIN over the phone ahead of a show in Athens, Georgia. "I would love for people to be taken on an emotional rollercoaster."
Despite being one of Nashville's most prolific country songwriters in recent years — he's penned some of his close friend Morgan Wallen's biggest hits, from "More Than My Hometown" to "Sand in My Boots" — Hardy melds his love of hard rock with his talent for country music songwriting. (Hardy declined to comment on Wallen's 2021 use of a racial slur.) The result? Hardy's artistic career has produced some of the most intriguing music to emerge from Nashville in years.
Hardy's new conceptual album (out Jan. 20) is armed with a front-end full of airtight country hooks (like the Wallen-featuring "Red") and a B-side that's pure rock-fueled adrenaline with very un-country song titles like "Kill Sh!T Till I Die."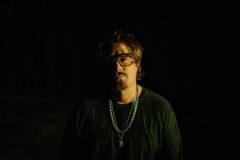 Currently riding a string of successful singles, including last year's "Give Heaven Some Hell," and having opened arena shows for Wallen over the past year, Hardy was aware Mockingbird would be his most anticipated project to date. His response to that pressure was to just "frickin' go for it."
Hardy sees his winding ascent as a rather unorthodox and unexpected one. While so many Nashville-based acts were dead-set on becoming recording artists, the 32-year-old Mississippi-raised singer, born Michael Wison Hardy, eventually moved "to town," as he calls Nashville, with the intention of landing a publishing deal and becoming a full-time songwriter — a natural progression given his attending Middle Tennessee State University and graduating with a degree in songwriting. But once in Nashville, thanks to stellar songwriting partnerships with Florida Georgia Line (whom he'd met at a party back in 2012 and later reconnected with years later) and Wallen, Hardy got in tight with Big Loud Records and their in-house producer, Joey Moi.
"I really had no intention of being an artist," Hardy says. "It just happened naturally. So I just thought 'I might as well send it to the moon with my music because I have nothing to lose.'"
In 2018, Hardy inked his own artist deal with Big Loud, toured extensively, and arrived with 2019's Hixtape, Vol. 1. The breakthrough mixtape made major waves, as the relatively unknown artist landed guest spots from some of country music's biggest stars, like Keith Urban and Thomas Rhett.
His latest single, "Wait in the Truck" is evidence of his musical risk-taking mentality. The dark and moody track, which features a powerful guest vocal from rising country star Lainey Wilson on the hook, is an affecting tale of domestic abuse and revenge murder. According to Hardy, it's already made major waves with his fanbase.
"If you look through the YouTube comments, it's all like 'I went through this exact same thing and I just wish so bad I would have had someone to save me from this situation,' he says. "So I know it's moving people. It's like when we wrote my last single, 'Give Heaven Some Hell.' You just know this is absolutely going to move somebody and make somebody feel something. That means the world to me as a writer. The highest expectation I could have is to make people relate to a song, really feel something, and maybe get through some sort of trauma or anything like that because of it. That's my shit, man. That's what I do it for."
Hardy has also made delivering a standout live show a top priority. Not only because there are few things in life he enjoys more than performing, but also because he's seen the other side of the coin.
"I would never name names, but I know people in bands that are awesome, but they suck live," he says. "That shit sucks, dude. When people love your music and they go to your show because they want to have an awesome experience and you suck live, that's the worst thing ever. I have always made a vow that we will bring it and deliver these songs people love so much and give them the best night of their life.
"I also have a chip on my shoulder that I just want to be better than everybody else," he continues. "Myself and my band are respectful and nice to everybody, but then when we get onstage, we absolutely murder it and plan on burying the people who have to go after us. That's always been our mindset."
And while he has major plans for his own musical career in 2023 — including the new album, headlining tour dates, and stadium shows with Wallen — Hardy has no intention of ever ceasing to write for other artists.
"My first love in Nashville was writing songs," Hardy says. "I like to say that I'm like two different people. When I go on the road, I turn my songwriter brain off and I'm an artist. But when I come back into town, I turn that off and I'm just a songwriter. That songwriter side of me will always exist. I absolutely love it and will never give up writing songs for other people, because it's what I moved to town to do. It's always going to be a part of me."